RTK Network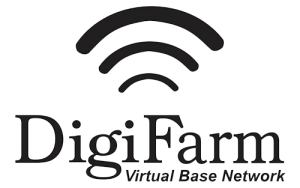 Palliser Sales has partnered with DigiFarm VBN to offer RTK GPS services across the majority of Southern Alberta. Our RTK GPS network is compatible with all makes and models. All you need is an RTK compatible GPS receiver with the required RTK unlocks. 
Digifarm VBN (Virtual Base Network) maximized RTK correction accuracy and reliability by combining all of the bases in our network with powerful server software to create a virtual base station in close proximity to where you are working. That means you can have an RTK signal anywhere within our network and any other network offered by DigiFarm. View our coverage map below.
Compatible with all major brands of GPS receivers   
Short baseline distance 
No need to change radio IDs
No line Shifts 
No need for a repeater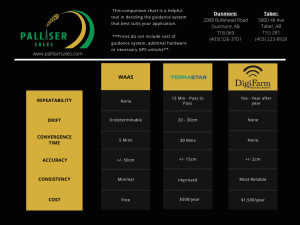 HOW VBN (VIRTUAL BASE NETWORK) WORKS
A vast network of DigiFarm base stations send data via the internet into central servers where the data is processed for clients to use. A cellular modem is installed in the tractor cab and is connected to the GPS receiver so that a wireless data connection can be established between the tractor GPS receiver and the DigiFarm servers.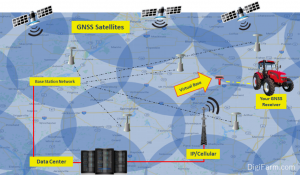 The GPS receiver on the tractor sends its position into the DigiFarm servers through the cellular modem. The DigiFarm servers respond by creating a virtual base station in close proximity to the tractor and transmitting corrections to the tractor's GPS receiver through the cellular modem. By creating a virtual base station for each vehicle that logs into the network, DigiFarm is able to offer superior accuracy compared to that of a single base RTK provider. This also provides our clients with exceptional redundancy and reliability.
Frequently Asked Questions (FAQ)
Q: I am interested in using Palliser Sales' RTK solution. What do I need?
A: An RTK-capable GPS receiver with all activations, unlocks and/or snap-in modules necessary to receive RTK corrections. You will also need a cellular modem that support NTRIP and is capable of logging into the DigiFarm network, or a Beacon v.30 with a cellular enables mobile device such as an iPhone, iPad or Android device.

Q: Does Palliser Sales provide my cellular data plan for my cellular modem?
A: Yes, Palliser Sales provides the SIM card for your NTRIP modem or cellular data enabled smart device in order to access the RTK network. The SIM card and data plan is included in the cost of your subscription.

Q: Is the Greenstar receiver on my tractor compatible with your network?
A: Yes, we support the SF3000 & SF6000 receivers and have many satisfied customers on our network using these receivers.

Q: Do I need to purchase an RTK subscription for each tractor I want to use RTK on?
A: You will need to purchase a subscription for each vehicle that you want to use simultaneously.

Q: When I purchase a subsription, am I restricted to one base station?
A: No, you are free to roam throughout our entire coverage area including other coverage areas within the DigiFarm network. You can find the full coverage area outside of our network here.

Q: Do I need a 450 MHz or 900 MHz radio on my system?
A: No you do not. In fact, you may be able to sell your radio to offset the cost of the equipment when going to our system.
Coverage Area